Team Iceland 2017
Rally the support of your family and friends to help you raise money for The Adventurers (The Pirate Ship Foundation Limited) as you do it.

The Adventurers (The Pirate Ship Foundation Limited) works to raise funds to find better treatments,a nd the cure for, childhood brain cancer. We rely heavily on community support, and a large portion of this is from fundraising events and activities involving dedicated people like you. The possibilities are limited only by your imagination so get creative, go over the top and let everyone know that you stand for something!

Team Iceland have set a bold fundraising target of $100,000 towards the Global Collaboration Fund.
The Adventurers provide funding to ensure international collaboration between clinicians and researchers who are working on treatment options for medulloblastoma. In 2015 the funding was used to bring three world-leading medulloblastoma clinicians to WA. Their visit led to hands on training for staff in new brain tumour methodologies and many fruitful discussions, resulting in collaborative research programs which are currently underway.
"This is the most critical part of Adventurer's funding, mostly because it is so important for us to actually translate our discoveries into clinical trials, but also because there are no other avenues to get funding for this sort of thing (ie. NHMRC grants etc do not fund this kind of stuff)." ~ Dr Raelene Endersby.
So what we will gain from your fundraising efforts is invaluable, and for that we cannot thank you enough!
In late June 2017, our Iceland team will embark on their quest. Participants will push themselves to the limits of endurance as they experience the extremes Iceland has to offer…. including
Dive the Silfra fissure between 2 continental plates – see some of the clearest water in the world.
12 -15 hour trek up one of Iceland's highest glacier within a volcano – Hvannadalshnúkur. At 2100m the ascent to the peak is a once in a lifetime must. Other fun adventure activities include snow mobiling and geo thermal pool visit. 26th June – 3rd July, this adventure is led by Narelle Antonio – Communications and Marketing Manager, The Adventurers.


Email narelle@theadventurers.com.au to find out how you could join or support our team.
Raised so Far
$0.00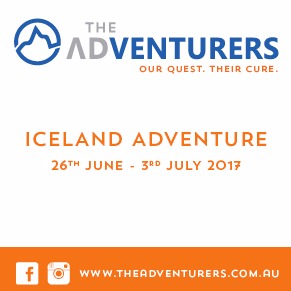 $0.00